JULY 6th - AUGUST 10th, 2019 | JOSEFINA AUSLENDER
Our second series of shows for the 2019 season will include a solo exhibition of drawings by draftswoman Josefina Auslender. Auslender's vision and skill are undeniable. This show will feature works originally exhibited as part of her solo exhibition at the Museum of Modern Art in Buenos Aires alongside new works created within the past two years. Auslender is thought by many to be one of Maine's best kept secrets. Come see why!
JULY 6th - AUGUST 10th, 2019 | FLUX II
Check out the second incarnation of FLUX, alongside Josefina Auslender's solo show. With this exhibition, we are pleased to present the work of Honour Mack and Oliver Solmitz for the first time at the gallery. We will also be featuring new work by Steven Alexander, Tom Arsenault, Laura Duerwald, Tom Gaines, Alison Hildreth, and more from our current roster of artists. This portion of the exhibition will shift and evolve as the weeks progress. Don't miss it!
MAY 25th - JuNE 29th, 2019
FLUX I
STEVEN ALEXANDER | NEAL BECKERMAN | DOZIER BELL | PETER BENNETT | SARAH BOUCHARD | TOM BUTLER | SANDRA BYERS | TOM COWGILL | COREY DANIELS | GREG DAY | LAURA DUERWALD | LYNN DURYEA | TOM GAINES | JT GIBSON | KEN GREENLEAF | MARTHA GROOME | JACOB HESSLER | PAUL HEROUX | LAUREN HERZAK-BAUMAN | ALISON HILDRETH | JUNG HUR | JEFF KELLAR | MARIA KRISTOFERSSON | JOCELYN LEE | FREDERICK LYNCH | JAMES MARSHALL | JONATHAN MESS | BOYAN MOSKOV | MUNIRA NAQUI | NANCY NEVERGOLE | PAUL OBERST | DUANE PALUSKA | BUD SWENSON | SHARON TOWNSHEND | MELISSA TURNER | HARRISON WALKER | JON WHITE | SHOSHANNAH WHITE | DON WILLIAMS | JOSHUA YURGES | WILLIAM ZINGARO
We kick off the 2019 season with FLUX, a gathering of new and noteworthy works by artists from our current roster and beyond, thoughtfully installed with Corey Daniels' found objects and artifacts.

In keeping with the notion of FLUX, we will be encouraging collectors to take work home with them at the time of purchase, creating a consistently evolving exhibition that shifts and changes as the days progress.
AUGUST 11th - SEPTEMBER 8th, 2018
TOM HALL
THE KATAHDIN AND MONHEGAN PAINTINGS
DUANE PALUSKA
JULY 7th - August 4th, 2018
PHILIP BROU
LETTING YOURSELF GO
SALLY MANN
SELECTIONS FROM A PRIVATE COLLECTION
JAMES MARSHALL
GRAPHITE ON PAPER

This July, we are pleased to present Philip Brou's first solo exhibition at the Corey Daniels Gallery. Letting Yourself Go is a new multimedia project investigating selfhood and the human condition. Featuring found objects, commissioned drawings from forensic artists, and a stunning series of meticulously rendered paintings and drawings, this installation interrogates fixed notions of the self. The project began with research into the famous story of Polyphemus, the cyclops from Homer's Odyssey who holds Odysseus and his men captive in his cave, and centers around the presence of the Nobody as a persona used to escape captivity and confront the ego.

We will also be exhibiting a selection of Sally Mann photographs from a private collection, ranging from her intimate family portraits to her Southern landscapes. Mann is one of the more accomplished and yet controversial artists working today.

In addition, we will be showing a carefully curated selection of James Marshall's process-driven sculptures and large-scale drawings. Marshall's focused exploration of graphite on paper has evolved into a series of abstract works that imbue the common paper bag with a nuanced, complex and compelling visual identity.
JUNE 2nd - 30th, 2018 | 2018 SEASON OPENER
ARTISTS' RECEPTION: SATURDAY, JUNE 2nd, 5-7pm
STEVEN ALEXANDER
JOSEFINA AUSLENDER
DOZIER BELL
BRIAN COLEMAN
GREG DAY
KEN GREENLEAF
JEFF KELLAR
MUNIRA NAQUI
NANCY NEVERGOLE
MELISSA TURNER
TIMOTHY WILSON
WILLIAM ZINGARO

september 23rd - october 31st, 2017 | The CERAMICS Show
ARTISTS' RECEPTION: Saturday, September 23rd, 5-7pm
sandra byers
lynn duryea
paul heroux
lauren herzak-bauman
maria kristofersSon
jonathan mess
boyan moskov
justin richel
miles spadone
sharon townshend
jonATHAN white
don williams
AUGUST 10th - september 9th, 2017
ARTISTS' RECEPTION: THURSday, August 10th, 5-8pm
dozier bell
philip brou
tom cowgill
lauren gillette
kate russo
lesia sochor
Dozier Bell is a highly accomplished Maine painter with numerous accolades and awards, including a Fulbright Fellowship, two Pollock-Krasner Foundation grants, as well as residencies at the Skowhegan School of Painting and Sculpture, and the McDowell Colony. Her gorgeously rendered landscapes are created from memory, reliant upon an intrinsic awareness of patterns of light and dark, movement and color. Conjuring the unknowable forces that shape our lives and environment, Bell's work offers a masterful immersion within sky, land, water, bird and air.
Philip Brou's recent work began by contacting Central Casting, one of the most respected casting agencies in the film industry. Through CC, he hired the 'extras' portrayed in this meticulously painted series of portraits, titled after the productions in which each extra participated. Brou considers these works "portraits of invisibility," as the extra's job is to seamlessly blend into the background of a scene. Interacting with the history of portraiture and exploring notions of selfhood, these works offer a compelling conceptual investigation delivered in painstakingly true-to-life detail.
Tom Cowgill's most recent body of work has steadily evolved over the past four years. Using stitched epoxy resin, Cowgill has created luminous forms suspended within steel frames. Inspired by Bernini's Ecstasy of St. Theresa, Cowgill's sculptures are meticulous in their craftsmanship, evoking an immediate visceral response.
Lauren Gillette is one of the most relevant artists working in Maine, today. Her altered leather jackets address a remarkable range of compelling issues. Pulling from globally relevant historic moments and movements to personal interactions and intimate relationships, Gillette's work is a feminist tour de force.
Kate Russo exhibits her latest exploration of the artist's palette, pairing her grid of Paintings By Men alongside a new grid of Paintings By Women. Each painting tackles a famous artist, extracting their palette from a well-known painting and using this same palette to create an abstracted oval "portrait" of sorts, revealing an artist's character and background through their choice of color and pattern.
Lesia Sochor's Mannequin series explores the multi-faceted nature of the female experience. By cutting and combining dress patterns, and painting directly onto these collaged surfaces, Sochor creates a series of simultaneously creepy, sexy images focusing on female mannequins. Invested in unpacking the connection between high fashion and female identity, Sochor's work is a visually compelling challenge to notions of traditional beauty.
JULY 1st - July 29th, 2017
ARTISTS' RECEPTION: Saturday, July 8th, 5-8pm
Neal beckerman
Cole caswell
Munira naqui
harrison walker
Neal Beckerman is investigating the breaking down of form into abstraction. Using resin-reinforced plaster, paint, sand and other found materials, Beckerman brings emphasis to aspects of reality that are normally disregarded: a television that has been turned off, disconnected fragments of thought, or the unedited contents of a bottom drawer.
Cole Caswell is a nomadic artist exploring the impact of contemporary culture on the natural environment. Infusing 19th century tintype techniques with a current feel, Caswell offers a surreal glimpse of our fading wilderness.
Munira Naqui's recent body of work offers an extended invitation for quiet contemplation. Using encaustic, pigment and graphite, Naqui creates seductive, ethereal compositions that encourage a slowing down into stillness and reflection.
We are pleased to introduce the work of Harrison Walker to our spaces. Walker creates texturally stunning abstractions using diverse photographic processes. Harrison writes, "I find myself working at the boundaries of what I do not understand. My work is driven by photographic materialism. The images and objects created reference time, memory, history, and the otherworldly. By working intuitively through the process of search and discovery, I employ the visual alchemy of printmaking, drawing, and photographic materials to create forms that evoke an experiential and emotional viewing."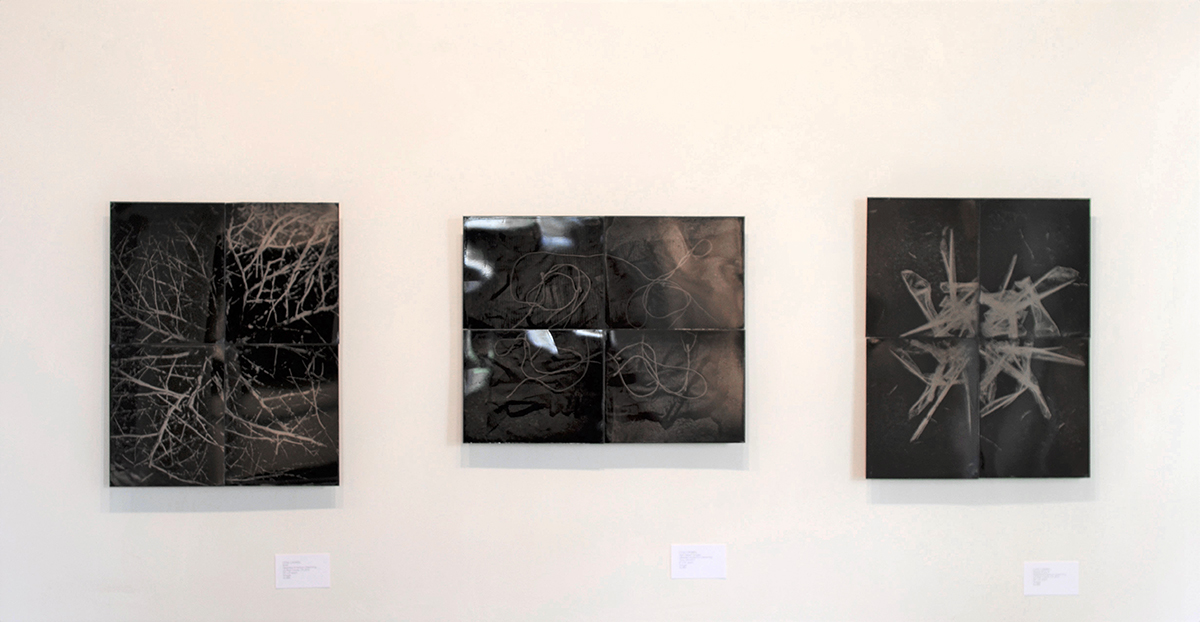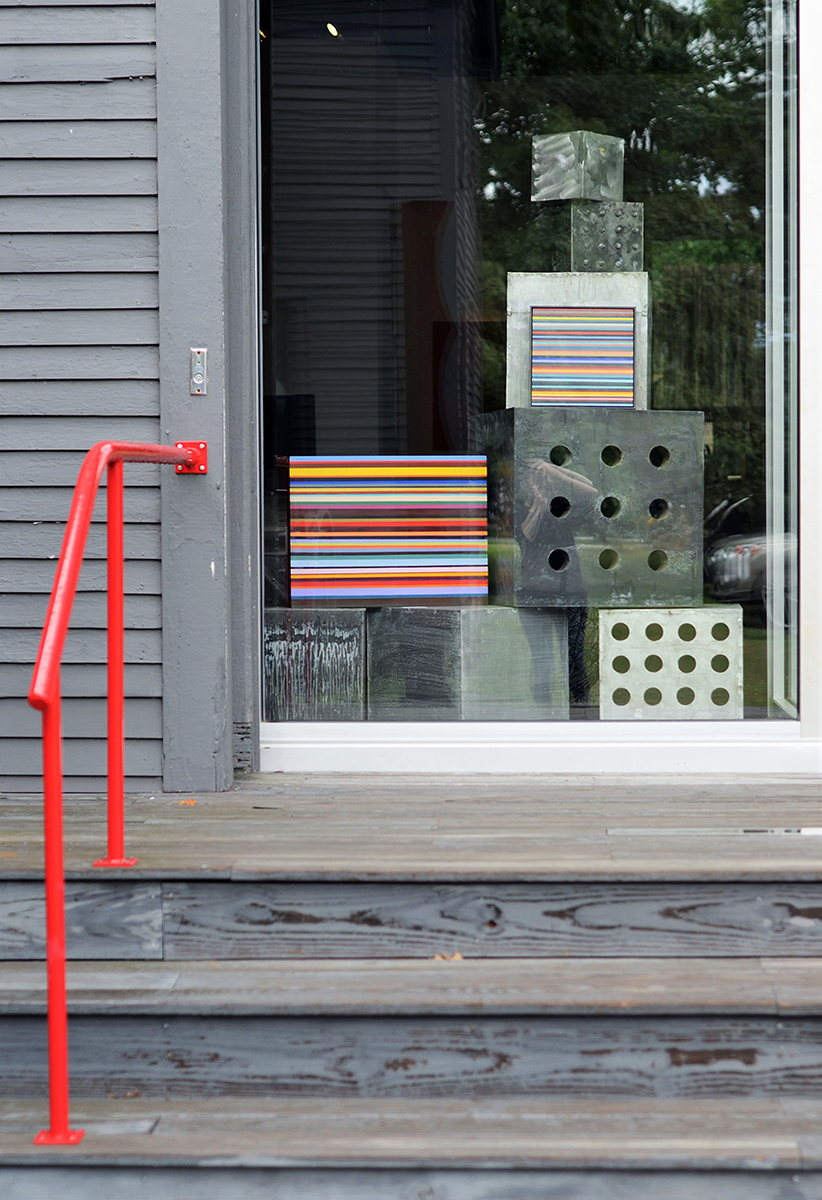 May 18 - June 17, 2017
ARTISTS' RECEPTION Saturday, May 20th, 5-8pm
JT GIBSON
JUNG HUR
JEFF KELLAR